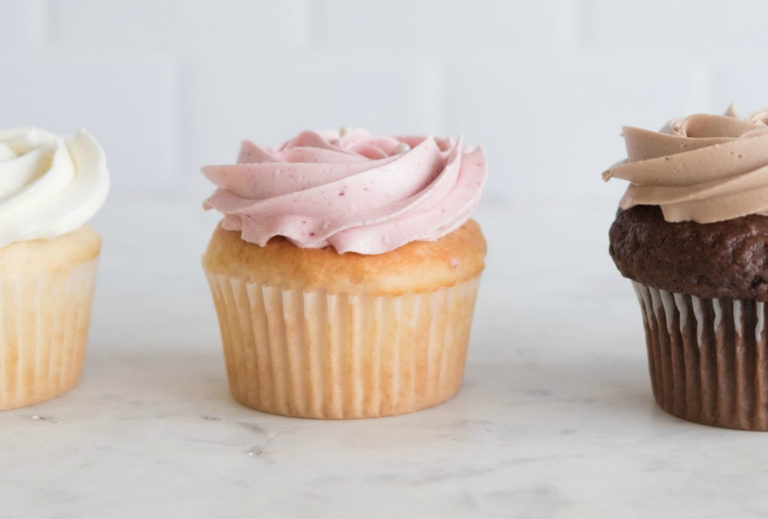 ---
A Piece O' Cake bakes just as much flavor and creativity into a batch of cupcakes as we do a custom designed cake. Our cupcakes are perfectly portioned with plenty of flavors for everyone on your guest list. You can choose from best-selling flavors such as Wedding White or Kahlua Fudge, or from gourmet options like Salted Caramel or Passion Fruit. No matter which flavor cupcake you choose, they won't be on the table for long!
Whether you're getting married, having a baby, or celebrating a special birthday, our cupcakes are the perfect treat for life's happiest occasions. Baked fresh and known for having just the right level of sweetness and exceptional flavor, our original recipes will keep you coming back again and again.
We offer cupcake delivery services for weddings within a 30-mile radius of our bakery. All other cupcake orders may be picked up at our bakery.
---
Best-Selling Cupcakes, Available Daily
Our four most popular cupcake flavors can be pre-ordered Tuesday through Friday from 11:00 am until 5:00 pm. Please keep in mind, we need at least one hour's notice to get your fresh baked cupcakes frosted and packaged. A minimum of six cupcakes per order.
Wedding White
Raspberry Swirl
Sour Cream Chocolate
Kahlua Fudge
---
Gourmet Cupcake Flavors, Availability Varies
Our gourmet flavors give you even more delicious options to choose from. Gourmet cupcakes must be ordered at least 48-hours in advance and there is a minimum of 12 cupcakes per flavor. One to two gourmet flavors (with no minimum order) are available for same day cupcake orders while supplies last.
Salted Caramel
Peanut Butter
Red Velvet
Yellow
Chocolate Dipped Raspberry
Passion Fruit
Lemon
Strawberry
Seasonal Flavors
Cupcakes with custom decorations need to be ordered at least one week in advance and a minimum order of 12 cupcakes is required. Adorable cupcake picks and candles made by Meri Meri are available to dress up your cupcakes every day.